Wholesale Frozen Beef Meat Products

Import, Export, and Trading beef products
Kühne + Heitz is a wholesale frozen beef. We offer high quality frozen beef cuts. Our beef products from Europe, and North & South America. We take care of the import and export all year around.
We deliver our beef products to Africa, Asia, Caribbean, Middle East, United Kingdom, Ireland and Europe. In short, worldwide shipping to any port.
Most of our clients are active in the following food sectors: industry, wholesale suppliers, food service distributors, and retail.
Packaging sizes can be tailor made for wholesale and retail purposes in order to meet buyers requirements.
Halal Beef Products
As a halal beef supplier, many of our beef products are available with strictly controlled Halal certification. Halal beef products are one of our best selling products at the moment. Halal chicken is one other popular halal meat product that we sell.
As an expert in frozen halal beef meat sourcing and export, we offer a full range of beef meat cuts such as beef hindquarters, beef loins, and beef offals.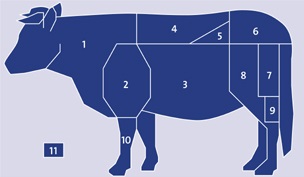 General Beef Product Specs
Label: Geko
Origin: Europe, North & South America
Spec: Frozen
Processing type:
Freezing process: Individually Quick Frozen
Packaging: Varies
Certification: HACCP | Halal
Delivery: From single pallet to full container load.
* These are general specs. It can vary by product.
Why Kühne + Heitz?
Worldwide Shipping
Local Knowledge
Halal Certification
Full Service Partner
Active Since 1974
Reliable Network